Table of Contents
Why Calling A Designer Immediately For Your Crypto Website Is A Mistake?
How To Create A Great Wireframe For Your Crypto Website?
Effective Crypto Website – Element 1: Header
Effective Crypto Website – Element 2: Your Value Proposition
Effective Crypto Website – Element 3: Social Proof
Effective Crypto Website – Element 4: The Easy Steps
Effective Crypto Website – Element 5: Money-Back Guarantee
Effective Crypto Website – Element 6: Explanation
Effective Crypto Website – Element 7: FAQ
Effective Crypto Website – Element 8: You & Your Team
Effective Crypto Website – Element 9: Footer
Conclusion
You have finally decided to create a new home page for your crypto project or redesign your current one. That's awesome! Now r next step will likely be to start searching for a designer. Sadly, that's not awesome and a pure mistake.
Why calling a designer immediately for your crypto website is a mistake
In our other article, we discussed why the wrong website could be catastrophic for your crypto project.
Admittedly, you will need a designer in the end, but don't call him/her yet. If you want a landing page that is effective and delivers the results that you are looking for, you need to do some work first (or hire someone with the needed skill set to do it for you). You need to prepare something called a page wireframe.
The wireframe is basically the structure of your future page with all its elements but in a black-and-white format. You should lay out your ideas in order to create something that represents your blockchain product in an effective way.
Using a wireframe is a better process to start with the design of your home page or pages because:
– No designer in the world knows more about your crypto project and its target audience, messaging, and offer than you
– Designers are not marketers (in most cases), they can't prepare a website that is conversion optimized, but they can do something beautiful and useful
– You can collaborate with your team (and current customers) about the future home page and get feedback if your structure is representing your crypto brand in a convincing and proper way
– You can see your ideas in a more visual way so you can refine them and make the result astonishing even to you
– It will save you a lot of time and money for changes, redesign, and communication with your designer
We are living in a very technological world, so there are digital instruments for almost everything. There is a tool that I have been using for a lot of time (even Apple and Tesla have used it) and it is great for creating wireframes. It is called Balsamiq Cloud (I'm not their affiliate, but it just works great).
Here is part of the wireframe of my current home page:
Now you know how beneficial it can be for your blockchain business to create a wireframe, and you will be using a tool that top brands are using, so what's next?
How Do You Create An Excellent Wireframe For Your Crypto Website?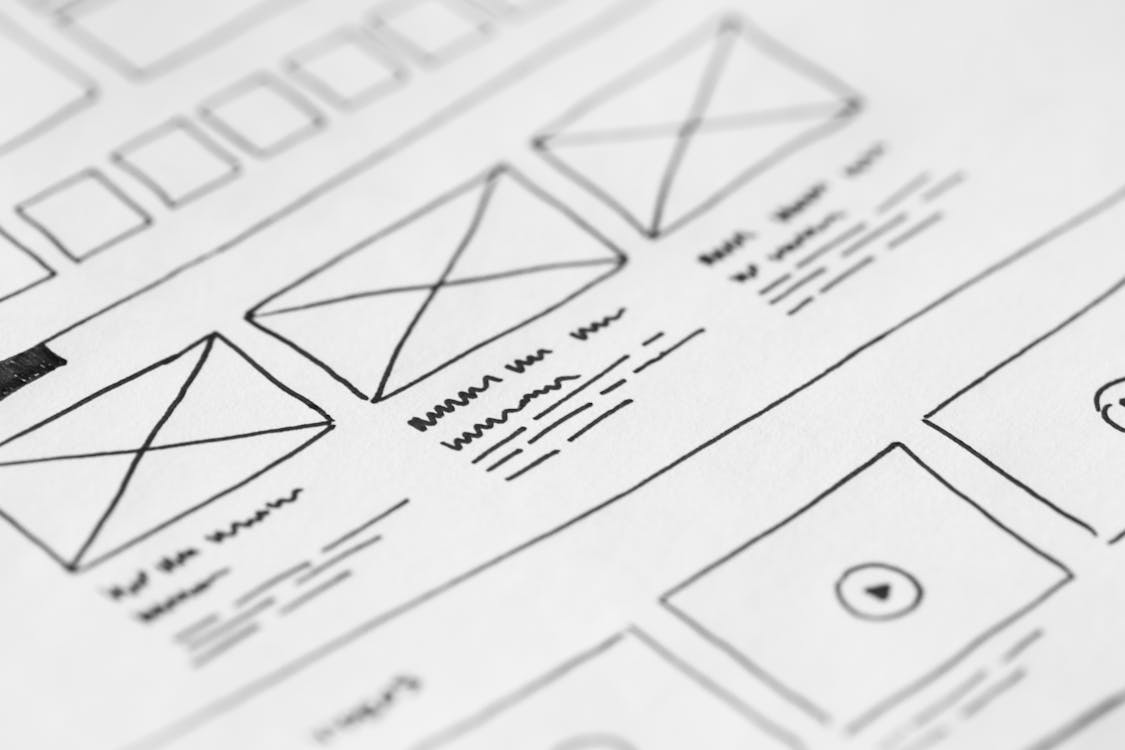 That's a great question, thank you for asking! Knowing that you need a wireframe is the first step to having a marketing-effective website. The next step is to prepare yourself before you start working on it, which means planning what to include on your future website.
You have two options here:
– To model the website of a competitor
– To create a wireframe based on your gut feeling and marketing experience
Both options can work for you because nobody knows more about your blockchain solution than you do. If you ask me, in the beginning, you should check your competitors (if you have any) or successful crypto brands and prepare a list with ideas.
Try to find the sections and elements that you like the most and believe can be a good fit for your home page. Starting from ground zero is a little complicated and can be frustrating, however modeling from other websites is much more fun.
Your goal with your wireframe is to lay out all the sections that you think your home page should have and then place the elements in the sections. The idea is to start with the base and then work on the details, and finally work on the texts and other things that will make your wireframe complete.
Now, let me make your life a little easier by giving you a list of elements that you should include for an effective crypto website:
Effective crypto website – element 1: Header
The first thing that someone is going to see on your website is your header or the first part of your website. In most cases, it includes a menu on the top and then text with an image or video. If we exclude the menu, the goal of this part of your website is to answer a very important question:
– What do you offer and how will it make my life better?
You should aim for one or two sentences to answer this question. When I say one or two, I mean one for the headline and one for the subheadline, and if you want you can include three bullet points below to explain more. Additionally, you should include a call to action button below so your visitors can know what they should do next.
There is one more reason why you need one in the beginning – I am sure that you have heard about emotional action-takers that don't think much and simply act; this button is made for them because they are impatient and want everything immediately. This is an important group of buyers/investors that you should not miss.
The other important element that you should have in your header is an image or a video that does one or both of these things:
– Visualize your heading (explains your words with an image or video)
– Shows the transformation that people/business owners will get by using your blockchain solution
Of the two, the transformation one is the more powerful option, but if the heading is not connected to it, something is wrong and you should reconsider your headline.
An image is not needed in the beginning. This is the final phase, and you may not even have to search for it. However, it will be beneficial for your business and designer if you can explain what the image should look like so the designer can find it for you. But if you want to be sure that the designer will find the image or photo closest to your imagination, I can tell you a useful trick.
Here it is:
– Figure out a word or a phrase that represents the idea of the image that you want to visualize, and go to  Google images, type it out, and hit the search button. Now you will have a list of images and photos that Google thinks best visualizes your idea (we know that the big G has one of the best AIs in the world, so we can trust it on this one).
You just need find the image that is closest to your idea and include it directly on your wireframe (but that should be done after you have completed the whole wireframe).
If you have chosen a video for this first part of the website, leave the script for the end, as there are other important things to think about at this stage.
As we mentioned in the beginning, part of the first section you will probably have is some sort of menu. My suggestion is to try to reduce it as much as possible and leave the not-so-important links for the bottom menu. The idea is to reduce the distractions as much as possible so the visitor can focus on the most important things that can help them decide to if they want to work with you.
One more important thing to keep in mind for this part of your wireframe is that it is a good idea to place the same call to action button that you have below your header in the top right corner of your menu. The reason for this is that eye-tracking studies show that this is where our gaze naturally goes when we scan the page ( you have probably heard the saying that people follow the Z pattern when they are scanning pages).
Effective crypto website – element 2: Your value proposition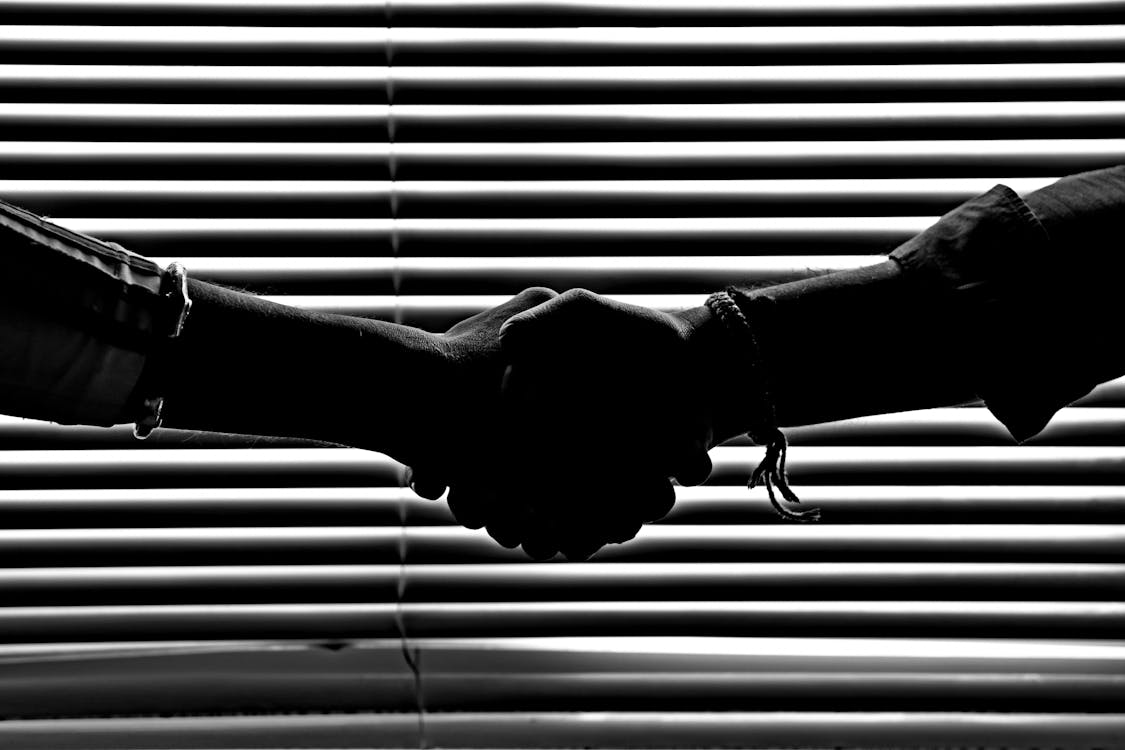 It is great that you have explained your offer in one or two sentences r, but this will not be enough for most people to start doing business with you. You need to explain to your visitors what they'll get when they invest in your blockchain solution, and what the benefits are. For example:
– Are you going to save them time?
– Are you going to save them money?
– Are you going to make them money?
In all cases, explain the benefits, not the features.
If you want, you can use bullet points to explain that or three separate columns; it is up to you. Here is a pro tip – use up to 3 benefits (the best would be to have precisely three bullet points). It has been proven that this amount produces the best results.
Effective crypto website – element 3: Social proof
No one wants to be the first to do business with you. I know that it may sound harsh, but this is the sad reality. That's okay because now you know that you have a problem, so the next step is to solve it.
Humans think as a herd, so we need to know that someone from it has already done what we plan to do, or we may have problems with trust. The easy solution is to use testimonials/logos of top brands that you have worked with, or that you have been featured/seen in.
Make sure to include this social proof on your wireframe. I have seen many well-converting websites put them after their header so they can quickly show their authority and credibility, but it is up to you to decide where the best place is for this element. In all cases, it is better to have it and be placed in a not-very-good position, than to not have it at all.
Effective Crypto Website – Element 4: The Easy Steps
Nobody likes to have difficulties in life, especially when theyhave to spend money. We want the process of buying something to be smooth and frictionless. And your goal with this element or section is to show that it will be exactly that.
You can easily achieve this by explaining the process of using your blockchain solution in 3 steps – e.g., buy, implement, and be happy! If needed, include short paragraphs below for clarification, but this is not mandatory.
Effective Crypto Website – Element 5: Money-Back Guarantee
People need security, it is one of our basic needs (this is what Maslow has discovered). Your goal is to convince your visitors that they are in safe hands and are at no risk. This is where your guarantee helps. So, when you are writing it keep two things in mind:
– How do you remove the whole risk from your potential client's shoulders?
– How do you incorporate some of your blockchain solution benefits in your copy?
It shouldn't be complicated, but rather, something easy to understand, believe and trust in. We all love to do risk-free things and invest in them when we know that if things go wrong, we can get our money back.
Effective Crypto Website – Element 6: Explanation
You have a great blockchain solution, but does everybody understand why they should choose you?
Use this section to explain and visualize this. It may be a longer text (not more than 400-500 words), but there are always going to be people that want to know more about your crypto brand before pulling the trigger. Give that explanation to them and if it becomes a little longer, make sure to include a "Read more" button that expands the text (hint: it would be a big mistake if this button redirects them to another page).
One more thing, when you are preparing your copy for this section—think about the pain points that you are solving for people. Don't talk about how great you are and your crypto solution, no one cares(I'm sorry but that's the reality)! You should talk about solving your future client's problems and satisfying their needs. That is what they care about.
Effective Crypto Website – Element 7: FAQ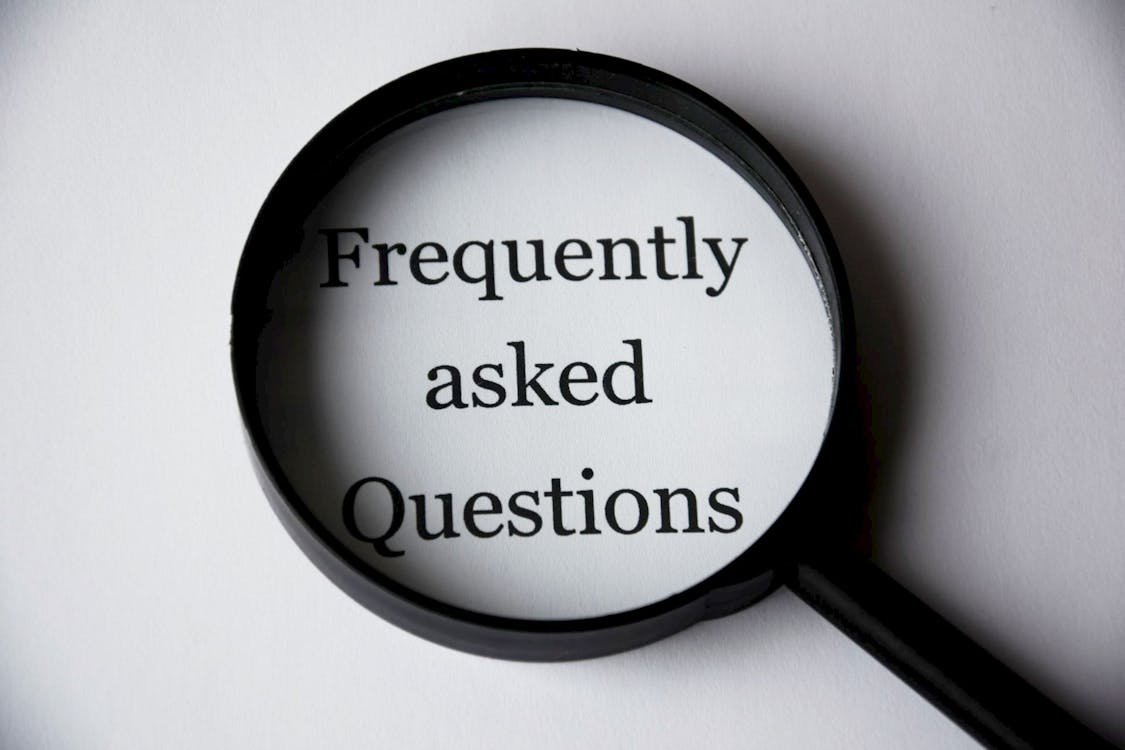 If you have an innovative or unique blockchain solution your visitors will probably have questions. And a great way to show that you understand them is to anticipate the questions that they may have after checking your website.
This is truly beneficial because if these are the real questions that they have, this will make them feel more connected to you (and even trust you more). Their subconscious mind will help them feel like talking with someone who knows them well, someone like a friend. We trust our friends when they advise us to buy something (in most cases). You need this bond to make the sale or investment easier for them.
Effective Crypto Website – Element 8: You & Your Team
People need to know who they are going to do crypto business with and what their background is. Some crypto brands prefer to reveal their team members as part of their homepage or about us page and this is not a bad option, but it is your decision.
In any case, there should be a place on your website where people can learn more about you and your great team. I am sure that you know how important this is for investors these days, and it will become even more crucial in the future.
Effective Crypto Website – Element 9: Footer
This is the end of the page, there shouldn't be anything after it. You can include all types of links here. There aren't many recommendations that I can give you for this part of your home page, because it doesn't do much to influence your website's effectiveness.
Something that may help is to include more social proofs if you can in the form of logos of auditing companies, KYC companies, or similar. And certainly, try to include the links that people will look for from a crypto brand like yours; this gives you another option to show how good you understand them.
Conclusion
Okay, now you have all the elements for a great home page. Feel free to use part or all them but based on my experience, using all of the parts discussed works best. I know that it may look like a really long page, and may sound scary, but we are talking about crypto innovation here!
People are not very familiar with this world yet. They need more convincing and explanations before investing. Even if you are in the B2B, you are still dealing with people.
You shouldn't be afraid of creating extensive pages if they provide value, have a logical structure, and keep the interest of the reader. If you can achieve all these 3 things, you will have a very powerful marketing asset.
Final Notes
Now that you have your crypto brand wireframe ready, make sure to invite your colleagues to check it out and give feedback! Do the same with your customers if possible and keep refining untill you reach the point where it is good enough, not perfect (this is not possible).
If you feel the need or have a reason to remove a section, just do it. All the sections, elements, and even words should be there to work for you, not against you. So, if you think that something should be there just because you like it there, but the feedback shows that it is useless, just delete it.
At the same time, don't be caught in the months-long refinement. The best test will be when people start voting with their wallets. Get the feedback, implement the changes and send it to the designer together with all the texts and directions needed.
The process of creating a wireframe for your crypto brand may feel overwhelming, but you should do it. It will have a significant effect on the results that your website can deliver. Then you can hire a great designer and developer to bring this to life with a calm mind because you've already done all the fundamental thinking that can get you a result-oriented website.
Need Help With Your Wireframe Or Design And Development?
We would be happy to help you with your wireframe and design needs, so you can save time, and energy and have a powerful website in the end! Let's jump on a free call to discuss your situation and needs, even if we don't work together, we will give you directions on how to properly do the work by yourself!