Are Brave Ads Good for Your Crypto Project Or Not?
Brave Ads is a product of Brave Software, Inc, the creator of the Brave browser. The company has developed the most commonly used tool for surfing online by crypto-enthusiasts. It is free to use and automatically blocks online advertisements and website trackers. 
Users have started to more seriously take action against privacy-invading techniques for the past ten years which is one of the reasons for the success of the Brave company. They have adopted secure tools that automatically block third-party trackers and through legislative and regulatory acts like GDPR.
What Is Brave Browser?
As we already mentioned, Brave browser is a free and open-source tool. It can be used on Mac, PC, and mobile devices. 
Brave servers neither store nor see users browsing data. Furthermore, all the data is private on users' devices until they delete it. 
Brave browser provides solid cookies control which depends on the user. She can choose to block the websites that are trying to install them or allow all. 
Users can manage their approval at any time using a recognizable icon that is always present on the screen. 
Advertisers can easily run Brave ad campaigns, however, users decide if they want to see these ads or not. They have the option to allow or block them.
How many users does Brave browser have?
According to Brave, as of August 2022, it had a network of more than 1.6 million content providers, 19.3 million daily active users, and more than 57.42 million monthly active users.
Brave users are growing every year as everyone wants a safe, private, and fast web browser. 
What Are Brave Ads?
Brave Ads are an underutilized tool for digital marketers that want to connect with the highly engaged group of crypto-enthusiasts. Brave launched around 2019 a novel advertising program that pays all users that choose to see advertisements. Those that participate in it will receive 70 percent of the revenue generated by the ads they see.
At the same time, Brave Ads do not replace the advertising that the Brave Browser blocks on websites. 
There are three different types of Brave Ads available right now:
– Push notifications
– Sponsored images
– Brave news
Reasons Why Brave Ads Might Be Good For Your Crypto Project
Advertising on Brave can be a great option for promoting your crypto project. Based on the stats provided by the platform, 3 of 4 people own cryptocurrency.  Together with that, you should also keep in mind that:
1. There are more than 50 Million monthly active users
Brave Ads are a good choice if you are looking to spread the news about your web3 project since it has around 19 million daily and 50 million monthly users.
Users are increasing on the Brave platform due to its amazing features. Therefore, it is perfect for crypto marketing because you can target people that have already shown interest in the industry. This is something that platforms like Facebook are lacking and when we add the limitations together with the bot that is choosing if your ad can run or not, you understand why Brave ads may be a good choice.
2. 8% average CTR for push notification ads
Based on the Brave ads stats, you can achieve an 8% average CTR for push notification ads, more than Google and Facebook combined. It means that the users are interested and engaged more with the promotions that are happening there.
Brave advertising formats
Brave ads can offer you a few different options. Let's see what they are:
Push Notifications

While browsing users can see push notifications with the brand name and a call to action that directs them to the advertiser's preferred landing page along with a URL. Using push notifications can be a good marketing tactic if you are looking to add engagement and more relevant website traffic to your crypto project.
There are three things that you need for this type of Brave ad:
– Title (up to 30 characters)
– Call to action (up to 60 characters)
– URL (landing page/destination URL) 
If you want to use this format it is also important to keep this in mind:
– Your brand name is required in either the title or CTA (call-to-action)'
– The Brave ads system checks the URLs to verify they're https:// (secure) and does not permit redirects between the click and the destination URL. The only exception is for redirects from the same domain (TLD+1).
– Your destination URL should have a domain that matches the brand or parent company'
– You need to avoid the use of ALL-CAPS text in the brand name and CTA for your ad. (There may be some exceptions.
– The placement of the push notifications is different on the different platforms – on MacOS they appear in the upper right corner of the screen, on Windows – in the bottom right corner of the screen, on Linux – at the top of the screen and on Mobile – at the top too.
– All your ads will be reviewed by the Brave ads team before they go live
Sponsored Images
Brave browser offers high-resolution sponsored images which are featured in the rotation of images on new tab pages. All users from around the world see the sponsored images. They can be viewed in every fourth new tab opened. 
However, users can turn off sponsored images (or all background images) directly on the new tab page.
Sponsored images are first-party ads, private, and untraceable. Users can access these images on mobile devices, desktops, and all other operating systems.
Brave News Ads

The news ads feature is automatically enabled for Brave users. One of the great things about it is that you do not pay for all the impressions that are not viewed. Another beneficial feature is that these ads are delivered in a specific sequence, ensuring that only one brand placement is viewable while users are scrolling the feed. This means that your crypto brand does not compete with others for attention in the feed sequence.
There are 2 types of Brave News ads:
Promoted content unit
You can promote your blockchain project content by connecting your RSS with the Brave News private CDN and it will be shown within the Brave News feed. No additional deliverables are required from you. As you publish more content, it will be automatically added to the feed including images. 
Promoted content units display by default in Brave News, however, users can choose to disable this from their Brave News feed selection settings. 
There is one issue that you should know about. You can use UTM parameters, but Brave blocks Google Analytics requests by default. While your content can include UTM parameters, Google Analytics will not function within Brave. 
Private Display Ads Unit
Enabled by default for all Brave News users, private display ads can be seen within the content of the Brave News feed. Private display Brave ads are appearing in the second position of the feed. Then they are displayed in a sequential rotation with other Brave News ad units on every fifth card. 
This type of ad unit features an image with banner proportions of 300×250. Based on the platform that the user is seeing the ad on, the images are natively changing to fit the screen of the Brave News feeds. 
The text for it includes a title, customizable call to action button text (Learn more, for example), and the advertiser name.
Reporting of this ad unit includes impression, click, and 10-second landing page visits. 
If you want to get advantage of this type of ads, then you need to provide:
– Image with size: 750 x 900px (horizontal) – up to 5MB in size and JPG or PNG formats or you can provide the https:// image URL
– Title text with up to 90 characters
– Text for your CTA button: up to 15 characters
– Advertiser name with up to 30 characters
That's all.
What are some of the other Brave Ads features?
Brave Ads platform is a valuable option for crypto advertising and has various features for all its advertisers. Let's discuss some of them below:
1. Geo-Targeting
Brave ads work globally, on English-language devices. As you probably know geo-targeting is very important for the effectiveness of your marketing campaign.
For now, the platform allows you to display your ads in 30 countries including the United States, Canada, Mexico, and the top countries in Europe, South America, the Asia/Pacific region, and Africa. State-level campaign matching is also available within the US. 
OS-level matching granularity is available too and it offers advertisers the ability to match ads to users in all 50 states.
2. Operating system
You can choose which devices you want your ads to be seen on – desktop – macOS, Linux, Windows, and mobile – iOS and Android.
3. Brand lifting survey
Brave brand lift surveys have the goal to measure the impact of Brave campaigns on key branding metrics. They utilize a pre- and post-methodology to compare brand perceptions among Brave users before and after the campaign.
First, a survey is sent to Brave users utilizing the same geo ad matching and platforms as the advertiser's campaign setup. 
Survey invitations are sent only via push notifications. 
After that, identical survey questions are sent to all Brave users who have been exposed to the campaign, together with a few additional questions about ad recall and actions taken. 
Again all survey invitations are sent via push notifications.
The questions that are part of these surveys depend on the campaign and may include questions regarding:
– Brand awareness
– Brand perceptions
– Purchase intent
– Brand usage/purchases
All the results should be available within 4-5 days after the campaign has finished running. Overall results can be provided and can be analyzed by key demographics that are important to the advertiser.
Everything sounds great, but you have to spend at least $50K in order to get advantage of this feature.
4. Reporting Dashboard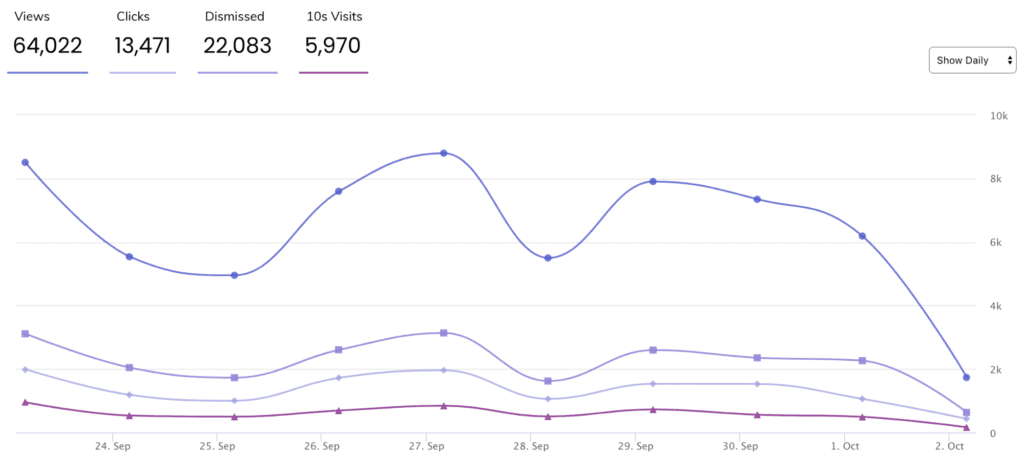 The reporting dashboard visually represents the performance of your crypto company. Brave gives you access to a reporting dashboard that provides graphs and charts for understanding the results at a glance. 
Once your Brave Ads campaign has been set up and approved for launch, you'll receive access to your reporting dashboard. Campaign dashboards update every hour, with the option to export reports whenever you want.
The metrics that you can see there include:
– Views: Total push notifications shown
– Clicks
– Dismissed stats: Amount of users who clicked to close and dismiss the notification before the default notification timeout.
– 10-second visits stats: Amount of users who clicked through the ad, and spent a minimum of 10 consecutive seconds on the landing page in the active tab.
– Upvote & downvote stats: By default Brave users have the option to upvote or downvote notifications from the Brave Rewards menu. This option is only available on desktop, but you will get stats about it on your dashboard.
– Conversions stats: Information about successful 1-, 7-, or 30-day view through or post-click conversions for purchase completion, successful registration, or "thank you" landing page URLs visits
– Brand lift stats from the pre- and post-campaign surveys
What are the available payment methods for Brave ad advertisers?
For now, the platform allows payments only in USD or the native token of the platform – BAT.
The billing cycle completes at the end of the month, and users can pay for their crypto campaigns accordingly. 
However, there are two important things that you should keep in mind about the billing:
– You have the option to cancel your push notifications campaign at any time. If you decide to do that, you will only be billed for the ads that have already been served.
– For sponsored images, if you decide to cancel within 7 days of the campaign going live, you will be charged 50%. 
How Much Do Brave Ads Cost?
Brave Ads' cost varies depending on the type of ads that you want to run. Push notifications cost $20 CPM (cost-per-mille or cost per thousand views) or $0.20 CPC. Sponsored images and Brave News ad units have a cost of $20 CPM.
However, if you want to launch your sponsored image campaign, you need a minimum of $50,000 per day. And the minimum spend for push notifications is $10,000 per day for 30 days.
Brave Ads: Restricted and Prohibited Categories
The good news is that you can advertise web3 projects and services by utilizing the Brave ads platform. Still, there are some categories that are currently prohibited and restricted:
– THC
– CBD*
– Tobacco
– Vaping
– Politics
– Violence
– Adult content
– Pharmaceuticals
– Gambling
– Content targeting children
– Content targeting expecting mothers.
*Advertising CBD is allowed in the US, but there are some state-level restrictions and you should contact Brave support about that.
How to Sign Up For Brave Ads
It is pretty easy to sign up for Brave Ads if you have the budget needed to advertise there. If you do then contact them by emailing adsales@brave.com. There is no other way to get started with Brave ads for now.
Final words about Brave ads
The growing popularity of the Brave browser, its privacy features, and the token rewards are getting more and more crypto and non-crypto people as users. Most importantly the mass user base there is made of people that are in the web 3 space, so it is not a bad idea at all to consider Brave ads as part of your marketing tactics list. However, due to the limitations on the targeting side together with the pretty high starting budgets probably you should make more research before jumping blindly to this advertising platform.
In all cases, if you need help with that or with some of your other marketing activities, contact us by clicking on the – Book a free consultation link. 
Resources List
– Brave Ads Media Kit
– Brave Advertiser Resources
– Advertising Formats
– The Brave Marketer Podcast