Table of Contents
Common Web Design Mistakes In Crypto Projects
Questions to Ask Yourself 
FAQ
Final Notes
Common Web Design Mistakes In Crypto Projects
Having a website is a must these days, but visitors are getting more and more demanding. It is not enough to have a landing page anymore; it must be something more. And this is totally understandable if you consider the fact that your webpage is your crypto project sales representative. It works for you 24/7.
If it was a real person, I suppose that you would want them to look great, clean, knowledgeable, and to be able to answer at least 80-90% of the questions that your potential customers have. Imagine now a salesperson that looks like a homeless guy with ripped clothes, dirty and having difficulties talking.
Do you think that such a person has a high chance of grabbing the interest of your potential clients and convincing them that your blockchain solution or crypto project is the right choice? I have some doubts that he/she will succeed with this task. So how do you expect people to trust your services/solutions if you haven't spent the resources and the time to make your salesperson (website) look nice and clean?! Your website is the first impression, the thing that somehow defines your relations with the client/investor. If it is not good, then you have not only less of a chance to build trust with him/her, but an even smaller possibility to convert the visitor into a buyer.
With the article today, my goal is to increase your chances of making sales or to increase your holders. In order to do that, I am going to share with you the most common web design mistakes in crypto projects that I have seen, so you can be better and achieve more.
Each of these issues can ruin the first impression or make the conversion from a visitor to a buyer/holder smaller, but this first one has the highest chance to ruin everything:
1. Wrong crypto landing page structure 
When someone is visiting your blockchain project website they are hoping you'll be THE solution for his/her problem. Your goal with your website structure is to prove to them that you are the right choicet.
In order to achieve this goal, your page should explain in a logical and understandable way why you are the solution and how you can solve their crypto problem(s). At the same time, you should tackle the worries and answer the potential questions that he/she may have. Finally, you should include elements that build trust, e.g. – testimonials, audits, case studies, and so on. Without all this, it is hard to convince someone to stay long enough on your website.
Pro tip: Make sure that you sell one main benefit with your website structure and one additional, secondary benefit. Don't try to be the solution that solves everything, because those that try to solve everything, in most cases solve nothing.  
2. Too many different calls to action (CTAs) 
Your blockchain website should have one main goal – e.g., to sell your tokens, to make people schedule a call with you, or anything else. But you must pick only one. And when someone visits your website, they should be able to figure out immediately what is the next logical step after they checks your website is.
There shouldn't be any confusion, otherwise, you have a higher chance of not converting the visitor. It is proven that when there are two or more options, people tend to have a hard time making their choice. So, if you want to make your visitor's life easier and the choice obvious, stick to only one type of call to action.
Here is an example of too much CTA on a web page: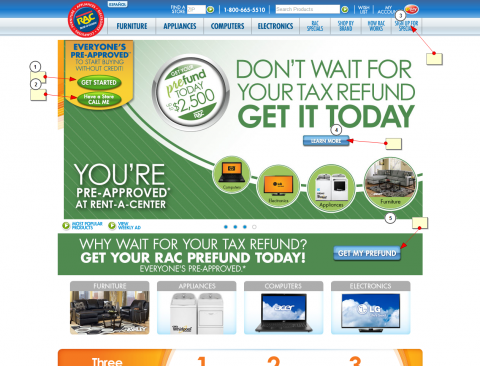 Pro tip – if you want a higher chance to convert your visitors into buyers/holders/investors, make sure to put your CTA in more than one place. This way you are making your visitors' life even easier because they will not have to scroll and search for the button. In this article, we talked about ways to utilize CTA's better. Check it ourt for more information!
3. No CTA On Crypto Landing Pages
Photo by VWO.
As said above, when people are visiting your website they are looking for a solution and are there because they believe (and hope) that you are the right solution. After checking your website and finding that you are exactly what they want, they will need to know how to get what you are offering. And if they have a hard time finding the answer to this question, there is a high chance of losing them. That's why when you are creating the structure of your website, figure out what is the next logical thing that a visitor should do after they has visited your website in order to:
– use your services
– get the advantage of your blockchain solution
– buy your tokens

…or whatever your goal is. And as we already mentioned, it should be very clear and obvious.
4. Unreadable texts
This is another one of the common web design mistakes. When you are structuring your website there are going to be images, icons, texts, and other elements. The problem appears when people try to combine different graphics like images with texts for example or videos with texts.
Sometimes in their willingness to show as many graphics as possible, the owners of the websites or their designers forget that someone will have to read these texts. Because of that when we are using an image, video, or another graphic element, we must keep in mind if there is going to be text on it.
If there will be something like that, it is important to check and see if the colors of the graphic are somehow affecting the readability of the text. If the image colors for example are "fighting" for attention with the color of the text, make sure that there is enough contrast between them, so the image/graphic is visible enough and the text is also readable.
Here is an example:
5. Slow loading time

We live in an age where everything is happening almost immediately, and all the younger generations are getting used to this, so they have even less patience.
I don't know if this is the reason or something else, but even Google punishes websites that have bad loading times. That's why these days it is even more important to have a fast website, which means compressing images, using Vercel if it is possible, using caching, CDNs, faster servers, and things like that. In all cases it is important before you start showing your crypto website to the world, to test it with services like Pingdom, GT Metrix,  and/or Google's website speed tool and aim to load in 2-3 sec max.
6. Mobile optimization
As you probably know these days people spend an enormous amount of time on their mobile phones. However, I have noticed that even the best blockchain projects somehow forget that.
The result is a website that looks good on a desktop computer, but it is hard to navigate its mobile version. That's why before you announce that your website development is ready, make sure that its mobile version also looks good and usable.
Otherwise, you may lose a big part of your potential investors/holders/buyers. One more very important thing – check the speed of the mobile version too. You can do it through websites like this one – https://pagespeed.web.dev/

7. Colors 
I am sure that you have seen crypto websites that have tried to combine 5-6 or more colors. I have seen a website that was starting with white, then green, a little bit of purple and orange here and there, black and red on some sections, and brown for their footer. I would say that this looks more like a Picasso painting than a website.
This may look cool in a gallery but using too many colors makes a website look unprofessional and strange. If you want a website that people will be excited to check and read, try to stick to 2-3 colors max. This is more than enough to put color on all your front-page elements.
Here is an example of good usage of color schemes by visme:
8. Fonts 
image by adobe.
Have you seen crypto websites that use 3+ fonts just on their front page and then another 1-2 fonts on their other pages? I have seen dozens of websites like that. Most of the crypto website visitors won't be maniacs like me on the topic of website optimization, but I can guarantee you that subconsciously this will bother them. They will have a feeling that something is not right, and you are not trustworthy, causing them to leave.
That's why when you are preparing the text part of your website make sure that you are using 3 at the most, but preferably only 2 fonts on your front page. And try to use them on the other pages too, no need to come up with new fonts for each page. Just choose one font for your headers and one for your descriptions, sub-headers, and bullet points, or choose one for your headers, one for your sub-headers, and one for everything else.
9. Bad images and graphics 
Having a website without images or graphics is impossible and a bad idea. The main goal of these visual elements is to represent or explain the concept of the text in a more understandable and colorful way. The first design mistake that I have seen plenty of crypto websites make is to use images/graphics that don't have any relation with the text or the section.
And the second very common one is to use visual elements with bad quality. Both issues make a website look strange and untrustworthy. That's why it is really important to use only images and graphics that represent the idea behind the text or explain it somehow and then test if their quality is good on all devices.
This is one of the most common crypto web design mistakes.
Here is an example of bad usage of images and graphics in a website: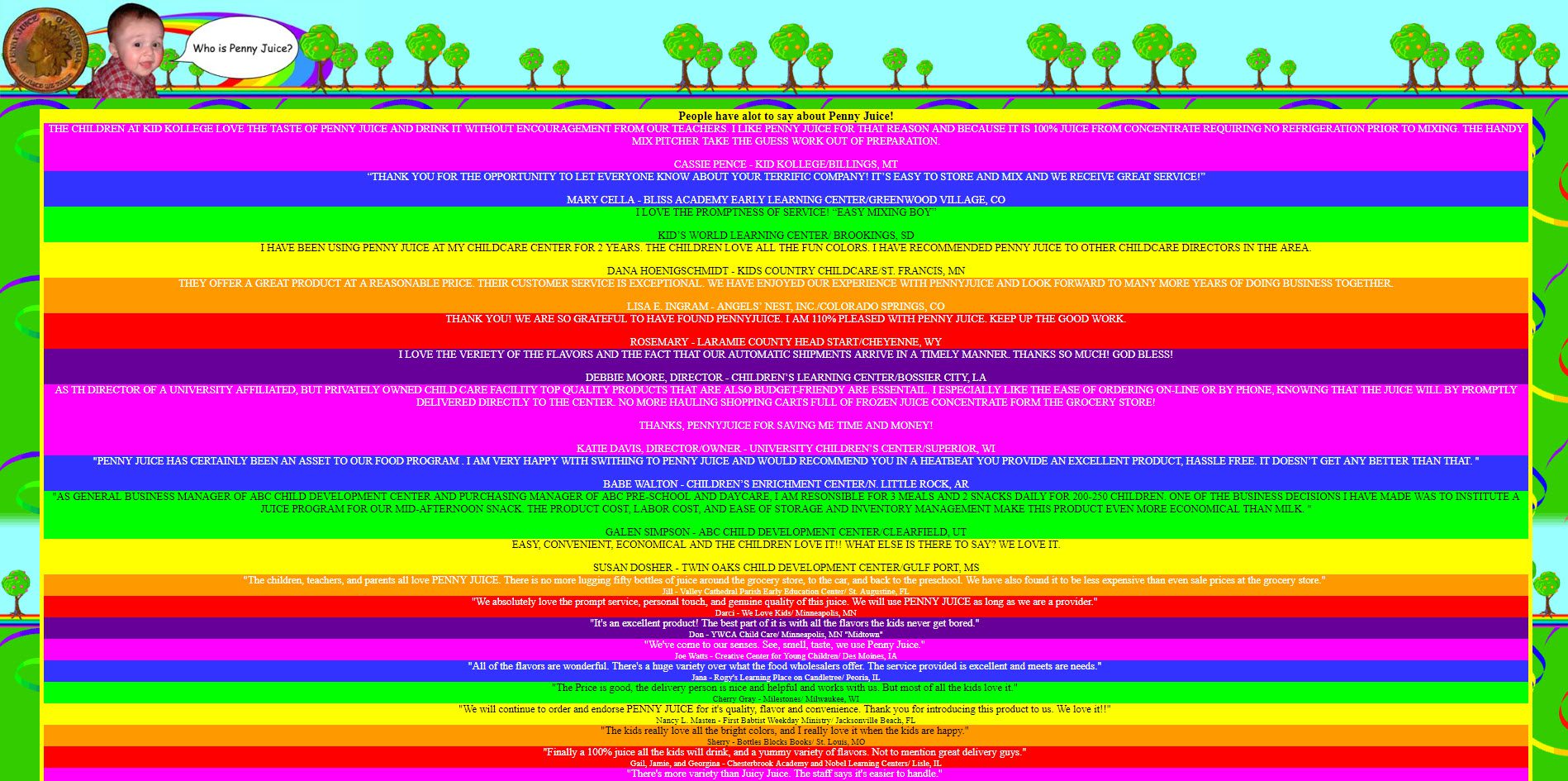 10. Not enough whitespace 
Maybe you are hearing this word for the first time, but don't worry it is more important for your designer to know about it. Let me explain – whitespace (also called negative space) is the zone between the elements on a web page.
These elements typically are images, texts, and icons. Some of the reasons why it is good to have enough of it include things like boosting readability, making a good first impression, increasing comprehension, and many more.
That's why you shouldn't try to put elements everywhere, make sure to leave some whitespaces so you don't tire the eyes of your visitors. But you already know that by doing it, you will achieve a lot more than that.
Here is an example of a webpage that lacks whitespace:
Now let's check if you are throwing away money with your website. Answering these questions will help you find the answer:
1. Is It Easy To Understand What Your Blockchain Solution Is Going To Do For People And How It Will Make Their Life Better? 

As humans, we are looking for benefits in everything, especially if we have to spend money. At the same time, we want to find a solution to our problem as fast as possible.
Who has countless hours to spend searching for something on Google? We want an answer immediately and the best would be if the answer is delivered to us even faster than that. That's why you have a short amount of time to show your visitor how you can solve his/her problem and what's the benefit of using your crypto project solution.
2. When Was The Last Time You Analyzed Your Website?

You already know that people form their opinion and give you their trust based on your website. This means that if your images are blurred or the design looks old school then you are in trouble. Now is the perfect time to replace what's broken with something new, more beautiful, and more effective.
3. How Good Is Your Crypto Website's Loading Speed? 

Speed is getting more and more important these days. Having a website that loads in less than 2 seconds is a must. Otherwise, you will not lose more potential investors, but you may lose your Google ranking too.
There are rumors that Google uses your website speed as a factor to decide where to put you on their ranking. This means that if you have a bad loading time and you have optimized your website very well, then your chances to get on the first page are not very good. So, use free websites like GTmetrix, Pingdom, or Google's tool to check your website speed. It takes a few minutes, but the benefit is great.
4. How Good Is Your Blockchain Solution Offer?

In order to convince someone to pay for something there should be some value for them, right? But there is also one more important detail here. The value that the potential investor/buyer is getting should be more than the money that they will have to pay for it. This is called a perceived value.
Your goal is to convince your website visitors that the perceived value (what they're getting) is higher than the money that they will have to spend. Only when you achieve that, then buyers will buy your tokens or whatever you are selling with ease.
This is how you can kickstart your relations with them – with a great first impression and feeling. But in order to achieve this higher perceived value, you have to have a benefit-driven and great offer. That's why it is good to spend some time and recheck your offer and ask yourself this question:

Is the value that I am proving with my blockchain solutions or crypto project high enough so buyers would feel that it is a no-brainer to buy my tokens (use your services or whatever you are selling).
5. Are You Giving The Right Type And Enough Information?

Structuring your offer is really important but the copy that comes with it too. Ask yourself this question: is my copy explaining the benefits of my blockchain solutions in an exciting and understandable way? Great copy focuses on the benefits, on what is in it for the potential buyer/investor, and not on you and your crypto project features. The other important element of your copy is your call-to-action (CTA), please, check your website if you have one!
It is ideal to have one type of CTA, but on several places on your website. It may sound strange, but people need to know what you want them to do when they arrive on your website.
People have to easily see what action they need to take in order to solve their problem. Imagine how painful it would be for someone that is passionate about your blockchain offer and wants it, to not be able to find out how to get advantage of your services/tokens (or whatever you are offering).
Frequently Asked Questions
What makes Design Bad?
We see all kinds of designs all around us, whether it may be good or bad. Understanding the difference between a good and a bad design may be important. This may even lead to good designs for your website. 
This article by Garg explains bad design in detail. Feel free to read up on it to have a more detailed explanation. But basically, she states that bad design is easy, and not well thought out. Overcomplication can also make a design bad. Considering that, too much of the opposite may end up making your design boring so it is important to find a balance between the two.
What is heuristic design?
Heuristics are quick and efficient methods of problem-solving or decision-making. Professional evaluators utilize heuristic assessment to systematically determine a design's or product's usability in user experience (UX) design. They examine a set of criteria as specialists to uncover problems that design teams missed.
By reducing design flaws, heuristic evaluation maximizes usability. Thus, it ensures that the user interface of a digital product, such as a website, a mobile application, or SaaS software, is effective.
What is the difference between UI and UX design?
UX designers' specific duties include developing strategies, testing, implementing, and analyzing goods and services' overall designs. UI designers, on the other hand, are in charge of managing the intricacies of an item or service's user interface. They oversee selecting typefaces, producing visual components, and guaranteeing that individual pieces or pages are both aesthetically pleasing and meet a product's goals.
Final notes
Congratulations, you have made it! Now you know what the most common design mistakes are and don't have excuses to make them. The time has come for the fun part – to fix them.
You can call your web development company to help you with that. If you want us to help you, click on "Book a Free Consultation". We would be happy to help you!